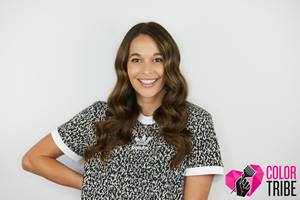 Haircolor
Refresh Your Hair for Fall
2018-09-18
Get shiny and healthy colored hair for fall
Fall is almost here and your hair is likely in need of a refresh! Summer is great, but the added time spent in the sun, in the pool, and at the beach has probably taken a toll on your color. It's nothing to stress about, though. Marie-Eve Faucher, and Tania Motuzas our latest Color Tribe members, are going to show you how to revive your color and get your shiniest, healthiest hair for fall!
If you're looking to fix faded color or warm tones in your hair and want a natural look, we have just what you need with our NEW shades in Shades EQ! Bold hair is fun to see on our Instagram feeds, but we know that most of you probably don't feel a wild color is always the right thing for you. With our new Natural Ash shades in Shades EQ you can get a soft color change in only 20 minutes, that, let's be honest, is probably much needed after the beautiful summer we just had!
Since our Shades EQ is hair color that thinks it's a conditioner, you will get your shiniest, softest hair ever! As you'll see in the video below, Toronto-based lifestyle blogger and mother to the cutest Instagram dog model, Teddy, Tania Motuzas came in with some faded and unwanted orange tones in her hair. She needed a color refresh and wanted her color to look cooler and shinier.
Our passionate hairstylist, Marie-Eve Faucher came to the rescue! Marie-Eve has made her mark in many area of the beauty industry and have tremendous experience in color, so Tania was in good hands! Marie-Eve suggested our new Shades EQ Natural Ash to control Tania's warmth… and the end result is absolutely flawless!
Take a look for yourself!
In need of a color refresher like Tania? Here is how.
You wish to learn more about the talented Marie-Eve ? It's here ! and about Tania? Here !