Haircare
INTRODUCING THE NEW BLONDAGE HIGH BRIGHT™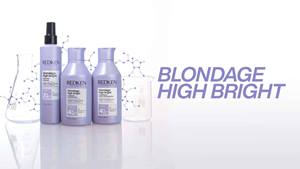 THE PERFECT LINE FOR INSTANTLY BRIGHTER BLONDE IN ONE USE!
Have you gone through all the diligent work of lifting, toning, and glossing your hair to achieve your perfect blonde? Are you a blonde who wants to boast your light and bright color? If so, then keep reading.

Every day, blondes face dulling agents, build-up, pollution, and grit that threaten your salon-fresh blonde. What many blondes do not know is that color maintenance comes with two key steps: toning and combatting darkening agents.

If you're looking to take the next step to protect your blonde from everyday threats, then you need Redken's NEW Blondage High Bright™ system.

This regimen is Redken's answer to blondes who lose lightness and brightness in the weeks between salon visits. This whole routine, including pre-treatment, shampoo, and conditioning, keeps your blonde light and bright, so bright that 92% of stylists report a brighter blonde after just one use. Blondage High Bright™ is powered by Vitamin C+ and our Brightening Care Complex – a duo formulated with chelating agents to help achieve instant results. Allowing you to see a brighter blonde and seal cuticles to lock out dullness with just ONE use.

All you need is these 3 simples steps: pre-treat, shampoo, and condition! Apply the pre-treatment to damp hair and leave on 5-10 minutes. Without rinsing, apply Redken Blondage High Bright™ Shampoo; lather and rinse. Lastly, seal everything off with Redken Blondage High Bright™ Conditioner for silky, brightened, blonde hair!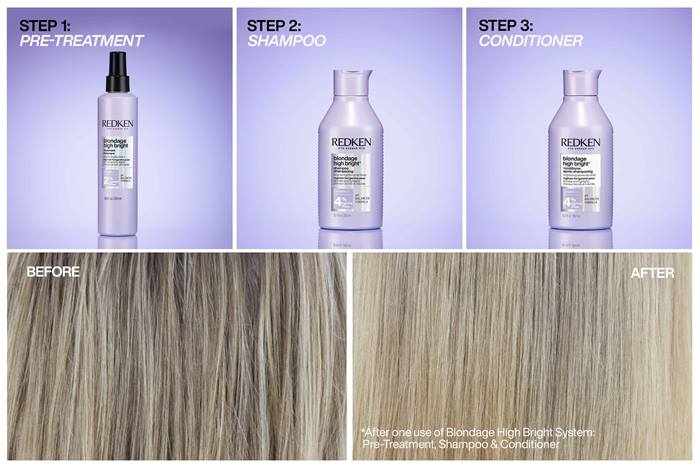 HERE ARE A FEW KEY BENEFITS:
- A brighter blonde instantly, in just one use
- A sealed cuticle & filled porosity to lock out dullness
- Silky, conditioned, soft hair
- The more you use, the brighter your results
Get the complete Blondage High Bright™ System now to get the brightest blonde ever!