Redken | 11/09/2022
TOPICS:
Redken x It Gets Better: Hairdressers United Stand Against Bullying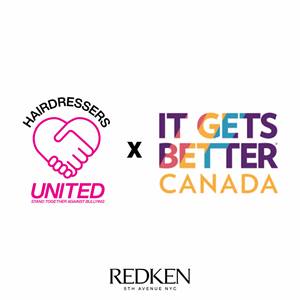 Hairdressers United:
Stand Together Against Bullying
At Redken, the hairdressing industry is our passion, and we are constantly inspired by salon professionals. 100% of
Redken stylists surveyed said they had experienced some form of bullying in their lives, and the overwhelming majority
of them shared that things really started to get better when they found hairdressing. We knew we had
to share this message of hope, not only with our community, but with anyone out there experiencing bullying who
might also find a home in hairdressing.

Redken is partnering with the It Gets Better Project to spread the message that the salon industry is a safe space
for everyone. Because we believe in a better future for all.

The It Gets Better Project is a nonprofit organization with a mission to uplift, empower, and connect lesbian,
gay, bisexual, transgender, and queer (LGBTQ+) youth around the globe. Together, we will embark on a mission
to show that you can overcome bullying and create a life that excites you and celebrates you.

We want you to be part of this mission. Join us today by sharing your story and inspiring the future hairdressers of
tomorrow. With your help, we can reach millions of victims of bullying and show them that it truly does get better.

#itgetsbetter

#Redkenhairdressersunited
The Transgender Awareness Toolkit
Redken is proud to continue its sponsorship of It Gets Better Canada as part of its philanthropic arm,
Hairdressers United: Stand Together Against Bullying, in a Transgender Awareness Toolkit to educate and uplift the 2SLGBTQ+ community.
Please share your support by reading this toolkit and posting the social images found on the following page to spread awareness:
https://itgetsbettercanada.org/2022/11/07/transgender-awareness-week-toolkit/

Don't forget to use the following hashtags when posting #HAIRDRESSERSUNITED
#TRANSAWARENESSWEEK #REDKEN #ITGETSBETTERCANADA when posting!
It Gets Better x Redken: Hear their stories