Haircolor
Redken | 10/29/2019
TOPICS:
13 Rose Gold Haircolor Ideas That Will Make You Want To Rock Pink Hair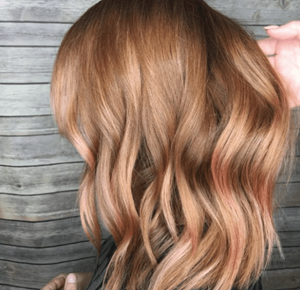 The 13 Best Balayage Colors For Short Hair
Whether you've embraced pastels and are rocking a colored 'do or simply love admiring looks on your Instagram feed, there's a new trend in town: rose gold hair. With so many variations out there, it's easy to pull off rose gold hair no matter what look you're going for. In need of inspo for your next haircolor appointment? Look no further than these rose gold beauties.
1. Bronzy Rose Gold Hair
If you're worried about how appropriate rose gold hair might be for the office, try this brunette variation. The key here is to ask your stylist for a rooted look that fades into rose gold at the ends. To rock the trend to the fullest and score effortless waves, let your hair air dry using a heatless hairstyle cream
2. Dip-Dyed Rose Gold Hair
If you're not sure about taking the plunge to rose gold hair, asking your stylist to use a dip-dye technique is one way to take the look for a test-drive. By dip-dyeing only the ends, there's room for you to experiment without the commitment of going all-in. To keep rose gold hair looking as sleek as possible, try using a smoothing hair lotion on your hair prior to styling.
3. Light Pink Rose Gold Hair
Sometimes making a statement with rose gold hair can be as easy as rocking a whisper of color. At your haircolor consultation, ask your stylist about using a balayage technique starting near the root for soft bursts of rose gold throughout the hair. Blasting hair with texturizing hairspray can also help give it a windswept effect helping haircolor shine through.
4. Strawberry Rose Gold Hair
Who said that rose gold hair was only for blondes? Red heads can get in on the fun thanks to this strawberry hue. To get the look, ask your stylist for a balayage with darker roots and pieces of rose gold hair throughout. Keep color-treated hair looking its best with Color Extend Magnetics Mega-Mask. By using it after every third wash, you can help keep your hair color vibrancy in check.
5. Red Rose Gold Hair
Think of red rose gold hair as a step up from strawberry. If you're not afraid of a bold pop of color, this is the shade for you and is sure to turn heads. Ask your colorist for an ombré that's darker at the roots and gradually fades into pigmented pops of color on the bottom. When making the switch to such a vibrant color, ask your stylist about using pH-Bonder on your hair. The add-on service can help keep your hair fibers strong and reduce breakage.
6. Lilac Rose Gold Hair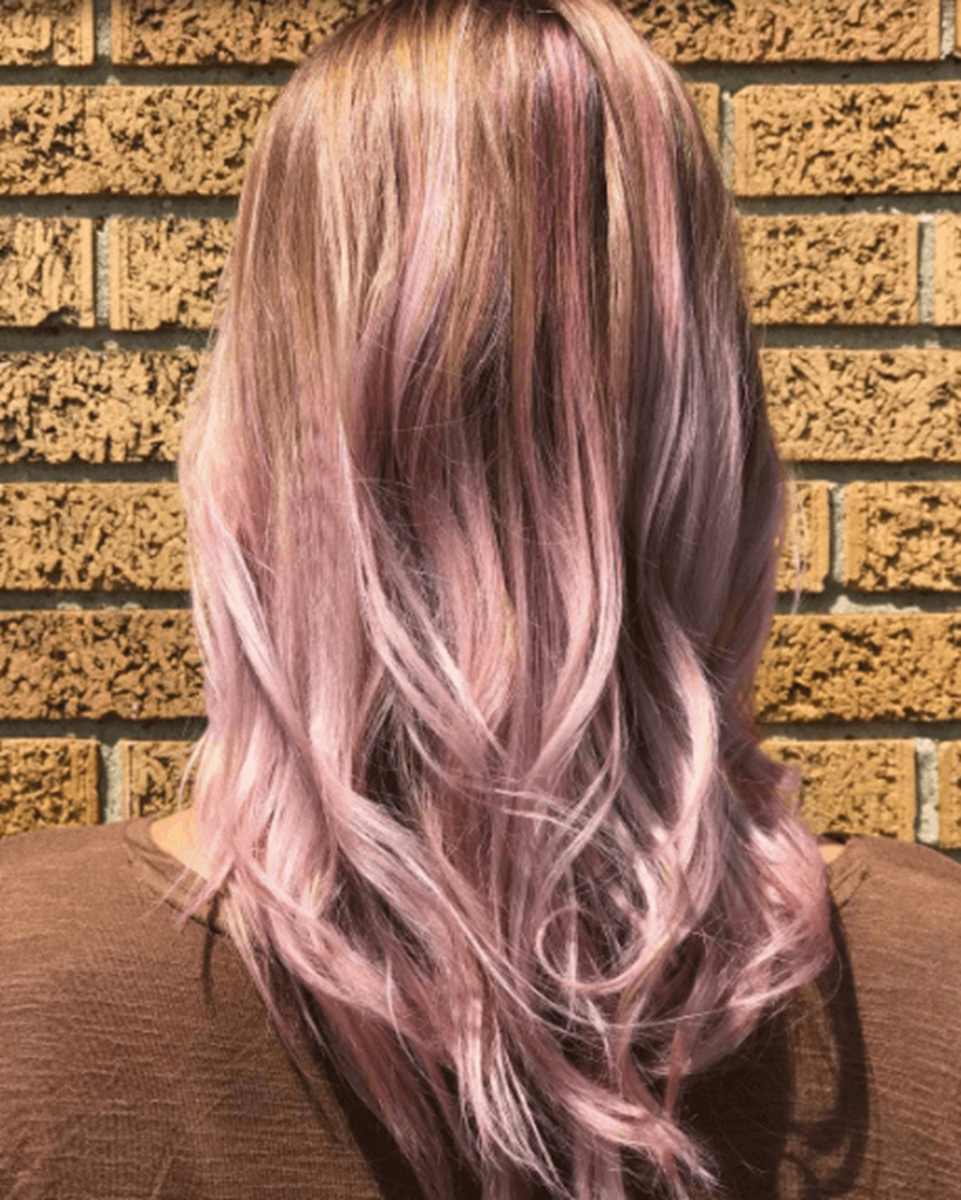 We're lusting over this lilac rose gold blend. The dreamy look is ideal for those who want to sport a subtle dose of lilac alongside pink tones. When it comes to styling, even if you can't make it to the beach, you can fake the look of textured waves by spraying hair with Beach Envy Wave Aid Spray.
7. Sunset Rose Gold Hair
Liven up a traditional shade of red with rose gold and violet tones mixed throughout the hair. To bring this look to life, ask your colorist for darker roots on top that transition into a rose gold ombré. A rootier look will mean having slightly more flexibility when it comes to touch up appointments once your roots grow in. For sleek hair that can bounce off light beautifully to show off your sunset rose gold hair, use the Diamond Oil Glow Dry system. It's ideal for achieving the smoothest blow dry possible.
8. Metallic Rose Gold Hair
Seeing the world through rose gold colored-sunglasses has never been so easy thanks to this metallic take on the trend. The key to nailing this look is to amp up the shine as much as possible. To make rose gold strands pop, mist hair with a hair shine spray.
9. Peach Rose Gold Hair
Breathe some warmth into your haircolor with this killer shade of rose gold. Take advantage of the gorgeous color if your base haircolor is on the lighter side. To help the highlights in this look take center stage, care for the color by cleansing hair with a sulfate-free shampoo like Color Extend Magnetics.
10. Smokey Rose Gold Hair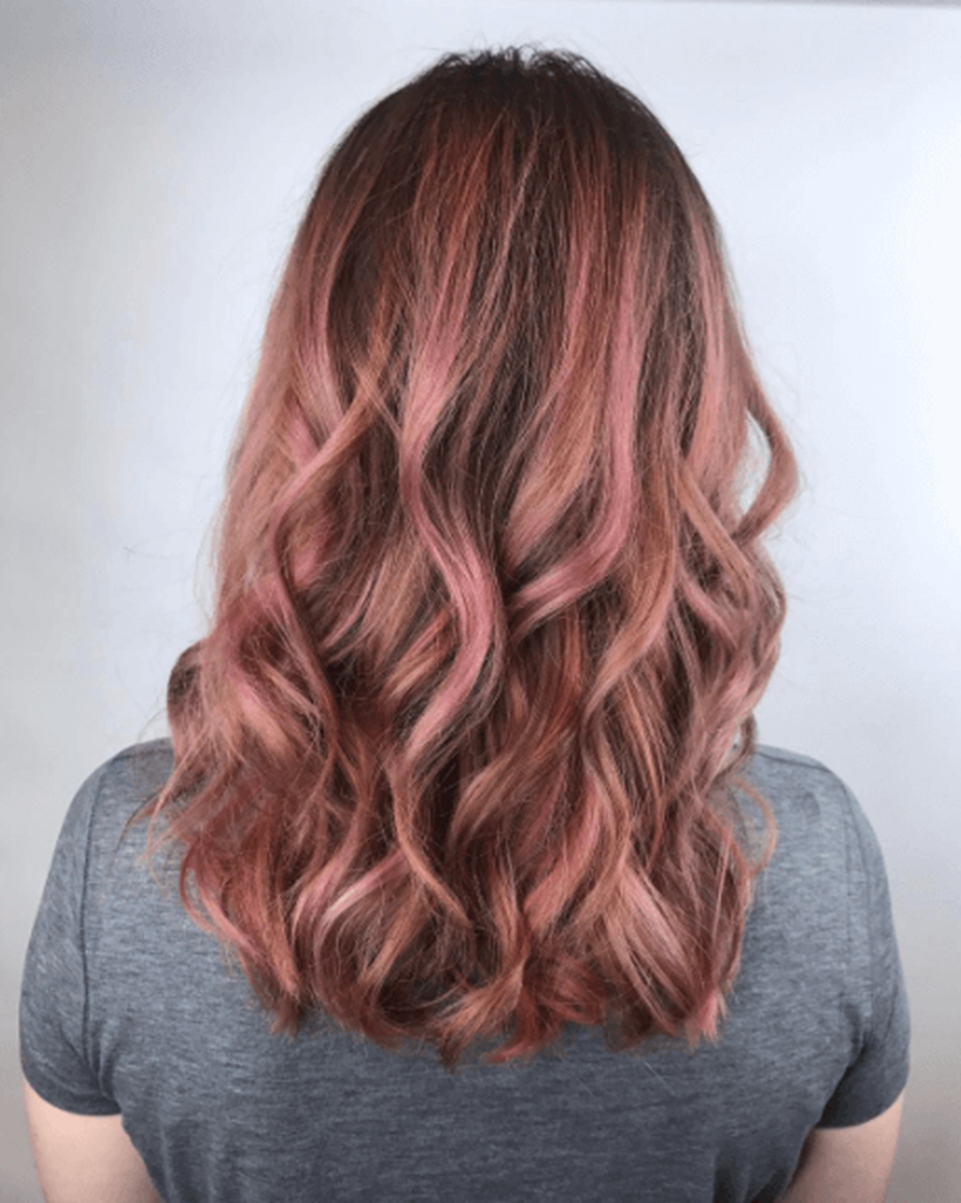 For anyone wanting the look of lived-in haircolor instantly, there's smokey rose gold. This color is about as real as it gets and doesn't demand the look of perfection, making it a great option for those wanting to try the rose gold trend with a busy lifestyle. For easy styling, bring your hair's natural waves and curls to life with Curvaceous Wind Up Spray.
11. Blush Rose Gold Hair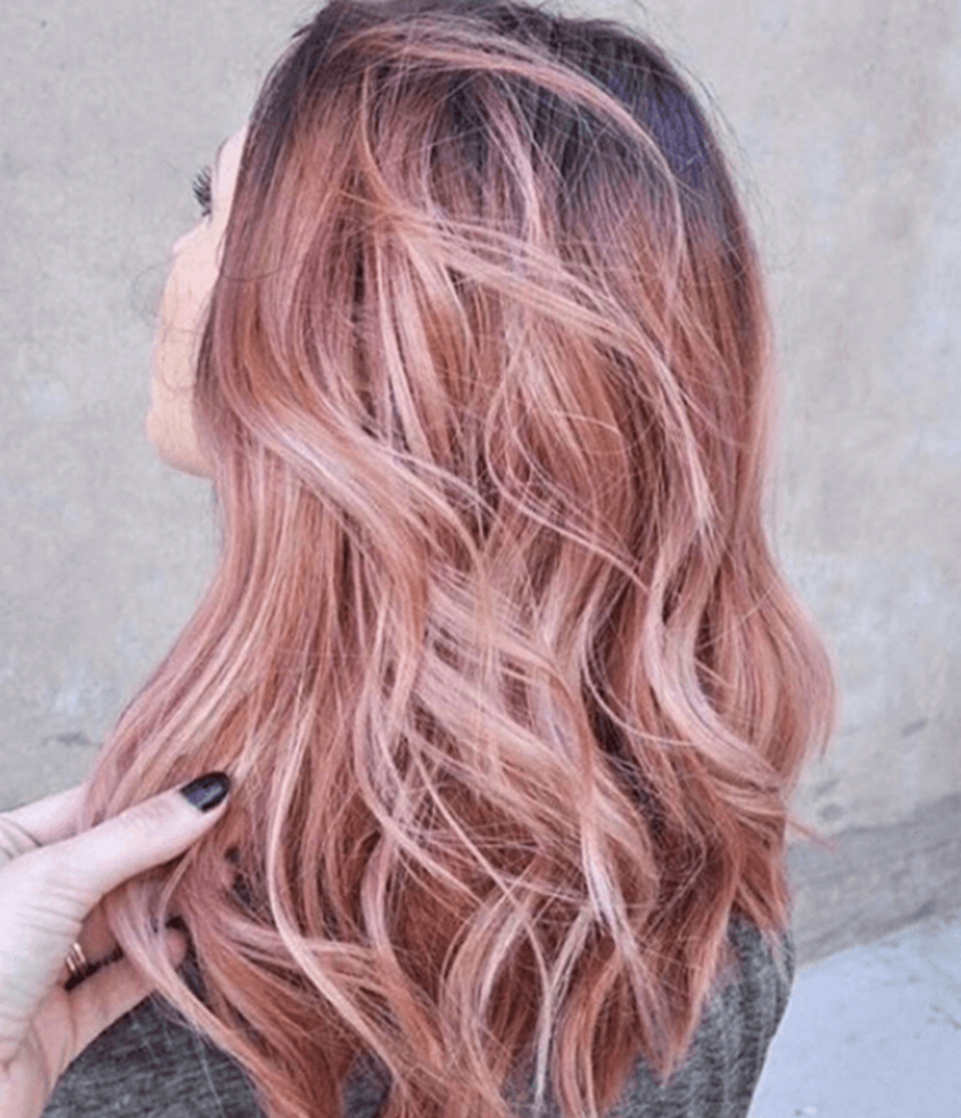 Millennial pink never looked so good in this blush rose gold interpretation of the look. Depending on how light your base color is, ask your stylist to pre-lighten your hair using a babylights technique to give haircolor dimension. To show off the color, keep frizzy hair at bay with Frizz Dismiss Smooth Force.
12. Platinum Rose Gold Hair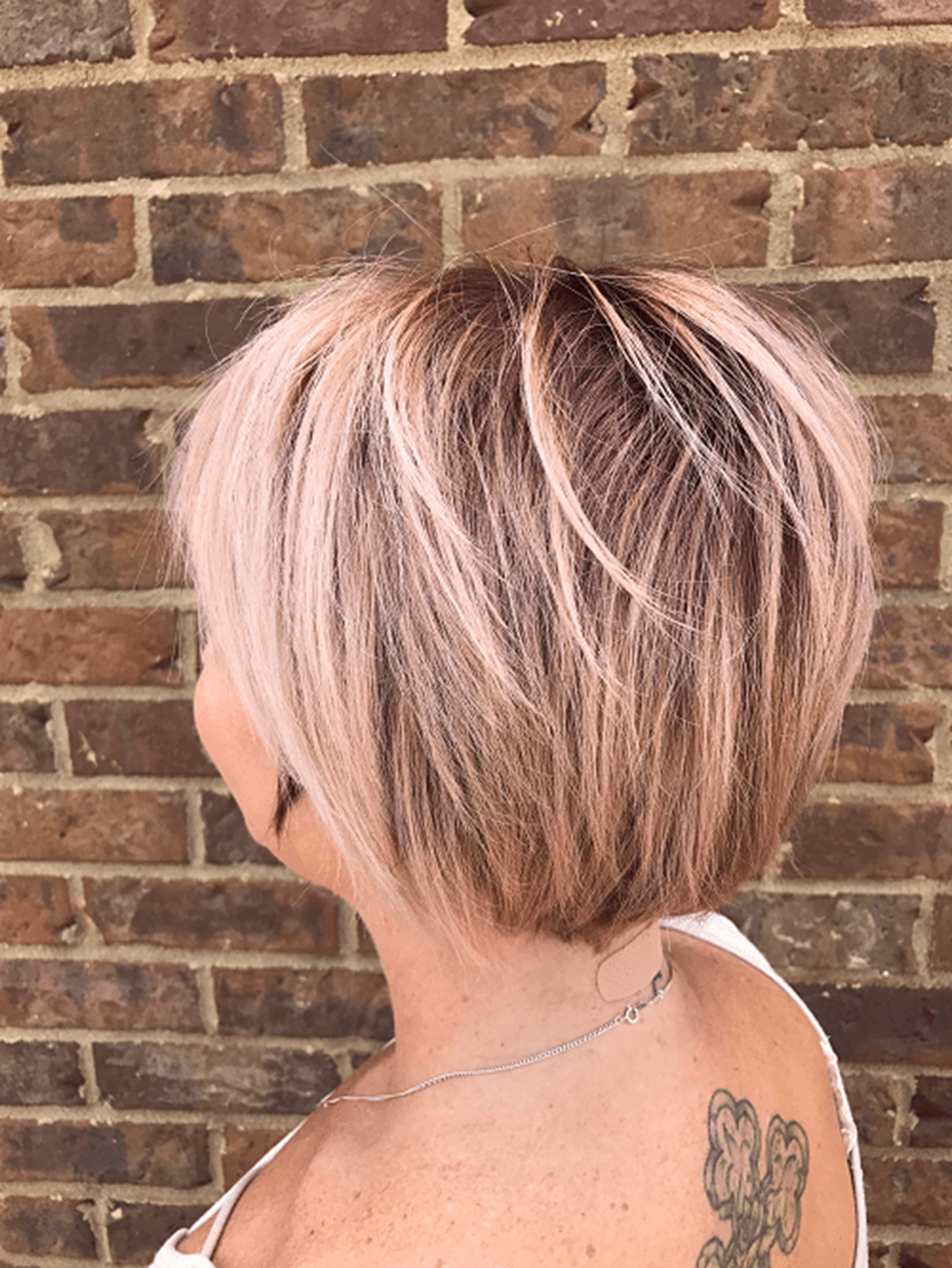 Pink streaks throughout the hair help take this platinum blonde to the next level. Adding rose gold blonde touches to the hair are a perfect way to add some flair to a traditional bob. To add piece-y separation and show off layers of haircolor, style hair using Rewind Styling Paste.
13. Quartz Rose Gold Hair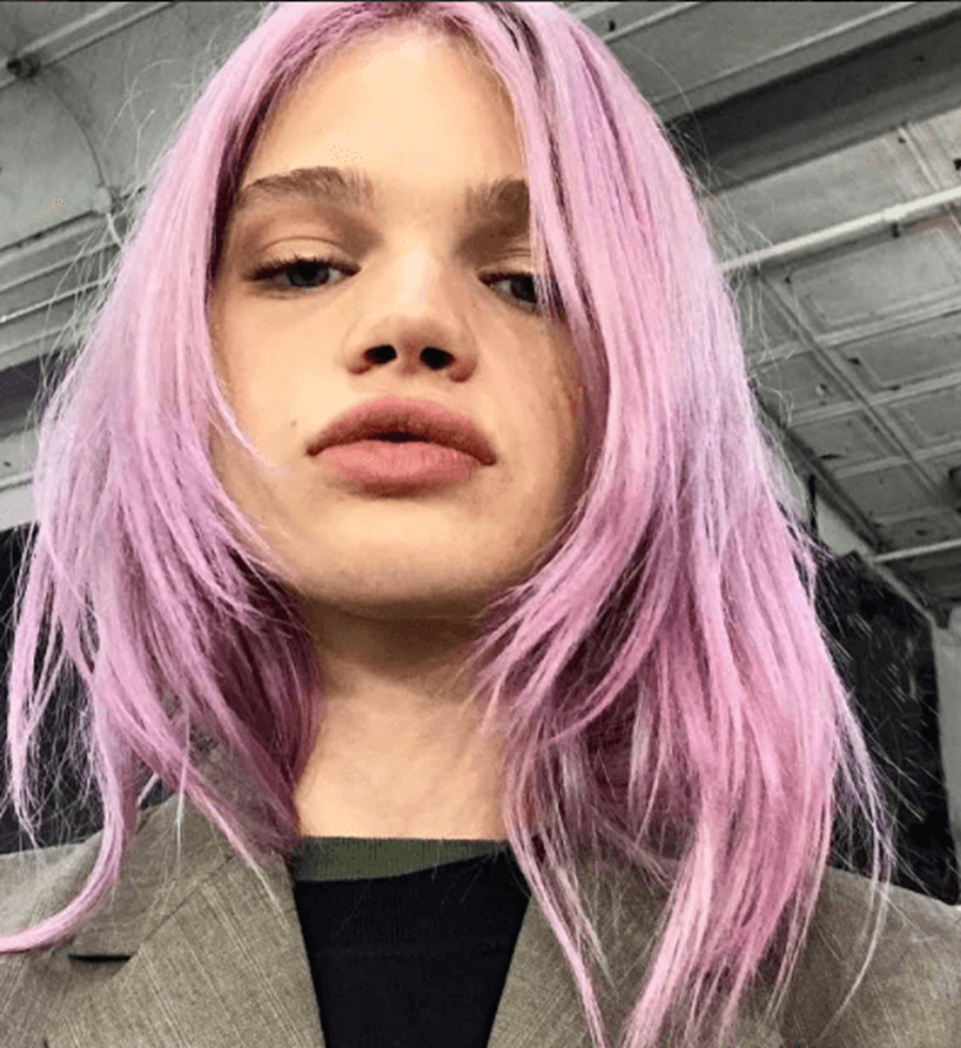 As a trend-setting look to come out of Alexander Wang's Spring Summer 2018 show, we're predicting that rose quartz hair will be everywhere. It's a mix between lilac, orchid and coral that's edgy, yet wearable. For an out-of-this world look, Redken Global Color Creative Director Josh Wood used City Beats Color Cream in Ballet Pink, East Village Violet and Midtown Magenta on pre-lightened hair. To play up the laid-back vibe, Redken Global Creative Director Guido Palau used No Blow Dry Cream to style the hair into messy waves.