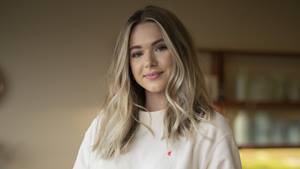 Haircolor
Always Blonde and Looking for Amazing, Healthy Hair? Look No Further!
2018-12-13
Going blonde while keeping your hair healthy
Blonde hair is a classic look that a lot of us want and LOVE. If you have ever lightened your hair though, you know that after a while, it can be damaging and dry out your strands. If you have been looking for a way to always rock gorgeous golden locks while still keeping your hair healthy and shiny, expert stylist Alicia Soulier has the answer!
Recently, Alicia gave Canadian influencer Sophie Suchan a makeover. Alicia has been Sophie's stylist for the past five years, so she really knows Sophie's hair. The color tribe member left the salon with the most beautiful and healthy blonde hair ever! Sophie is no stranger to color as she has been dyeing her hair since grade three, and even she feels as though Alicia's work is her best color to date.
To get Sophie's look, her and Alicia played around with Redken's Shades EQ line.
Alicia hand painted the highlights to brighten up Sophie's hair. She opted for a creamy, cool-toned blonde and let Sophie's natural roots peek out at the top to give a more natural look that is low maintenance. She framed the pieces around her face using a brighter blonde as well, so that Sophie wouldn't look washed out. The Shades EQ Demi-Permanent Hair Gloss is called the haircolor that thinks it's a conditioner, which Sophie loved and now believes in! She noticed an immediate difference in her hair afterward. Her hair felt softer and stronger, plus the shine was out of this world!
Lastly, Sophie has been growing her hair out but decided at the end to completely change up her look and go for a chic looking LOB. It's a total hair transformation, and it looks absolutely beautiful!
Check out how Alicia created Sophie's gorgeous look with this video:
In need of a healthy blonde like Sophie's? Here is how. You wish to learn more about the talented Alicia? It's here! and about, Sophie, the fashionista? Here!