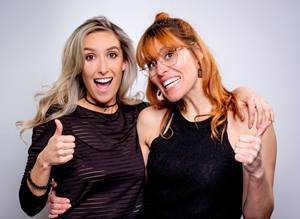 Haircolor
DJ Miss Shelton Undergoes a Major Hair Transformation with Catherine Allard
2018-10-19
DJ Miss Shelton's Major Hair Transformation
Recently, DJ Miss Shelton had her hair done by Catherine Allard , Redken artist and Master Colorist finalist at the 2018 Contessa Awards, and the results are incredible!
Miss Shelton is a busy lady. This sought-after DJ who is always on the go and makes people dance wanted to be able to transform her red locks into blonde in just one easy salon visit without sacrificing the health of her hair. She was having trouble finding a hairstylist to help her with this until she met Catherine.
Catherine has a passion for haircolor, which is quite obvious! She was excited to help Miss Shelton with her transformation, and she did an amazing job.
To get Miss Shelton from redhead to blonde so quickly while keeping her hair healthy, Catherine used the power of Blonde Dimensions and Blonde Icing lighteners to get Miss Shelton's red color out and create a perfect canvas to start from. This duo is what gave Miss Shelton's hair fast results while still respecting the integrity of her hair!
More importantly, Catherine used our two-step pH-Bonder to protect Miss Shelton's hair. Without pH-Bonder, the transformation would not have been possible! When undergoing such a transformation, hair can become brittle and dry when it isn't protected. But thanks to pH-Bonder Miss Shelton's locks were protected so she didn't have to worry about breakage.
Not only that, but pH-Bonder helps maintain your strands' elasticity, strength, and texture, while protecting your hair's delicate bonds. (Think about asking for it if you are planning on a color transformation!). To finish this beautiful look, Catherine obviously picked our Shades EQ line, the color that thinks it's a conditioner!
These products, paired with Shades EQ acidic base, were the reason Catherine could do such a major change for Miss Shelton without sacrificing the look or feel of her hair!
Check out how Catherine completely transformed Miss Shelton's hair in this video:
You wish to discover more about the master colorist Catherine Allard? It's here! and about Miss Shelton? Here!