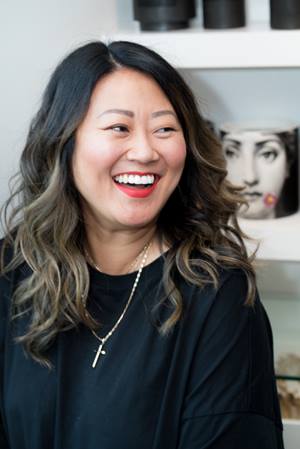 Haircolor
How to conquer the concrete jungle of NYFW?
2018-10-12
The Makeup guru, Grace Lee had her hair colored by the super talented Tony Pham at LAC + CO in preparation of New York Fashion Week. Grace is the Official Makeup Artist for Maybelline NY and a trend visionary who knows that great hair completes any look. To give her a brighter look, Tony covered her greys (shh that's our little secret!) and added highlights for a gorgeous look!
For Grace's color, Tony used the Redken Shades EQ and City Beats color line. Our Shades EQ is demi-permanent haircolor that adds incredible shine and condition to your hair whereas our City Beats is semi-permanent hair color that adds bold and vivid color. Both products have the same acidic base to give your hair incredible conditioning! (Yeah!)
Grace's hair is super natural looking and is a look we'll be seeing a lot of this season. Not only does it brighten up Grace's complexion and add dimension to her hair, but it makes her waves look extra gorgeous too! Grace the end result and it gave her a little bit of power and confidence to conquer the concrete jungle and backstage bustle that is New York Fashion Week!