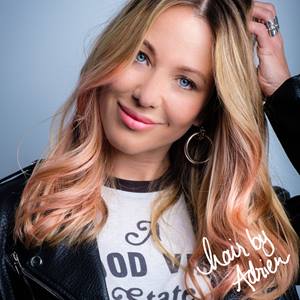 Haircolor
DISCOVER 15 FACTS ABOUT THE REDKEN COLOR TRIBE MEMBER: KAROLINA JEZ, A GO-GETTER WHO LIVES AND BREATHES FASHION
2018-08-04
The Color Tribe Q&A:
1) Three words to describe you? And why!
Driven, nerdy, and lovable because that's how my mom describes me, and she knows.
2) What's the most useless talent you have?
There's no such thing as useless talent… You'll always find a place to rap Snoop Dogg at… ;)
3) What is your natural hair color?
Blonde!
4) Since when do you color your hair?
Since my early 20s.
5) What inspired you to start?
I wanted my childhood's baby blonde back, a soft and icy blonde for the summer and something a bit deeper for fall and winter!
6) Were you ever not blonde? If yes, which color were you? Do you have pictures?
Yes! I went brown for a while, and those pictures have been looooooocked away!!!
7) How did you meet Adrien?
Our hair-love-affair started so long ago that I can't even recall! Most likely at the end of a rainbow in Montreal, somewhere. Haha!.
8) How long has he been your stylist?
He has been my go-to stylist ever since I moved to Montreal from Vancouver and has since become a dear friend. It's really nice to sit in the chair and know you can trust your stylist with not only your hair, but with your chatter about anything and everything!
9) What is a trend now that you feel people will be embarrassed by in 5 years from now?
Bad streaking jobs and bad ombré!!
10) What hair color would you love to try but you are way too scared to do it?
Black hair with a purple undertone!
11) Resto or cooking?
I am no Martha Stewart, so resto for sure.
12) What is your hair morning routine?
A slight brush, hair flip, and a little spritz of my Redken Pillow Proof Two Day extender if I need it.
13) What weird food combinations do you really enjoy?
Erring in sour cream. It's very Polish of me!
14) What goal do you think humanity is not focused enough on achieving?
Kindness.
15) Would you say that the saying "Blondes have more fun" is true? Why?
Some of my best friends are brunettes, and they are WILD (won't give names…), so I'll have to say no.
You wish to rock Karolina's Dusty Rosé haircolor? Here is how.

You wish to learn more about Adrien, Karolina's friend and colorist? It's here!