How To Create The Perfect Blonde... With Less Damage!
DO YOU WISH YOU COULD GIVE YOUR CLIENTS UNLIMITED CUSTOMIZATION WHILE PRESERVING THE INTEGRITY OF THEIR HAIR?
DO YOU WISH YOU COULD GIVE YOUR CLIENTS UNLIMITED CUSTOMIZATION WHILE PRESERVING THE INTEGRITY OF THEIR HAIR?
Whether your client is a natural blonde looking to go blonder, or a brunette wanting to cross over to the brighter side, you're going to be lightening their hair. And while yes, this makes for a very pretty end result, all of that hair lightener can take a major toll on their locks. The good news? It doesn't have to.
Keep reading to learn more about how to level-up your blonding services without the damage, so your client can have the haircolor of their dreams without sacrificing the integrity of their hair! They will also need the right at-home haircare regiment to maintain the health and strength of their strands following their lightening service.
This is where the Redken Power Trio is key in reducing your client's chances of hair breakage by 77% vs. using non-bonding bleach alone.
What happens when you lighten hair?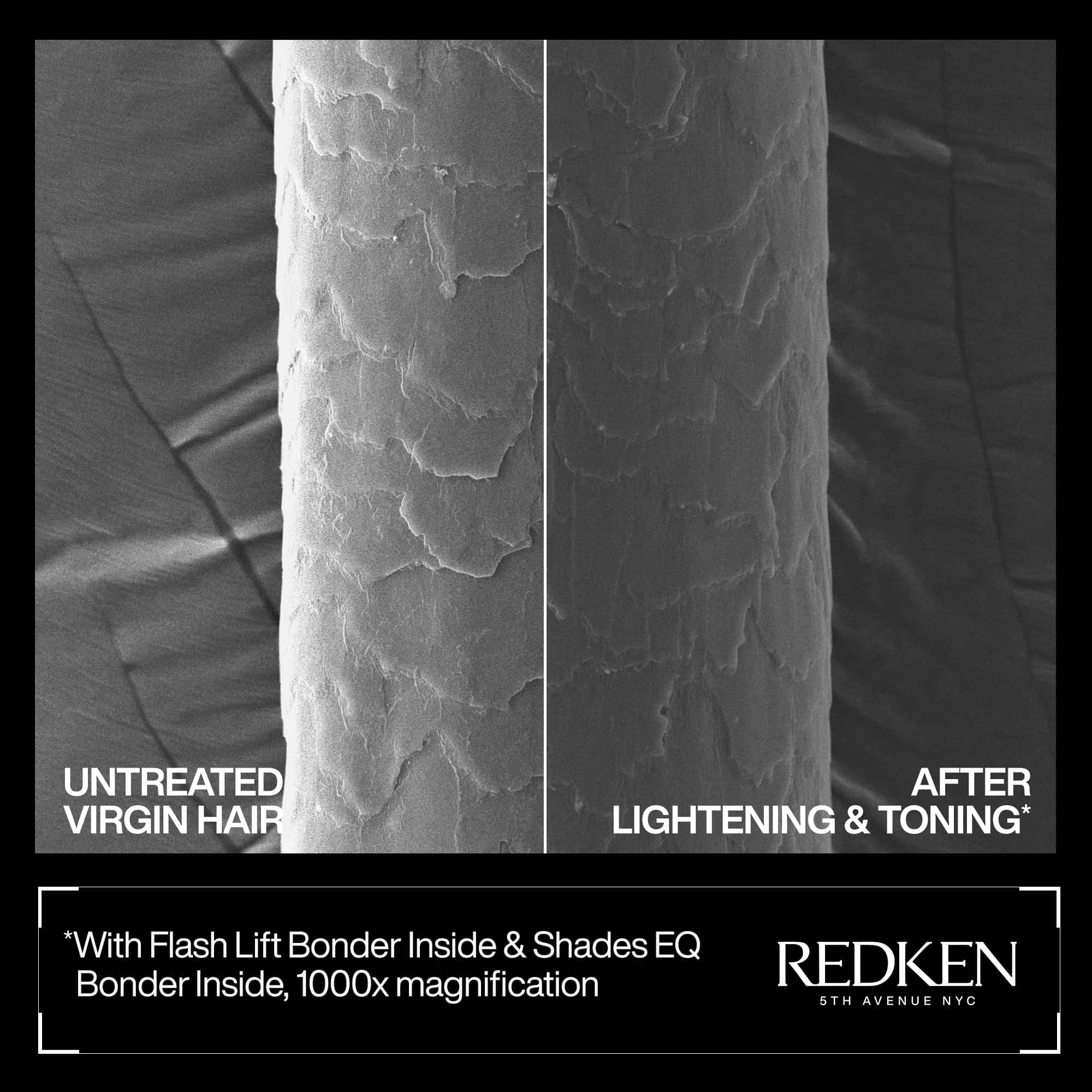 Lightening your hair color is actually quite a complex chemical process that takes a high level of skill. To keep this from turning into a college-level chemistry class, think of it in two phases: Part one: An alkaline ingredient in the color (often ammonia), opens up the cuticle, the outermost layer of the hair strand. This allows for the hair lightener to get into the hair and do its thing, bringing us to part two of the process. "A hair lightener breaks apart the pigment in the hair so that light is reflected through it and the color looks blond. The pigment is still there, it's just broken up so much that you can't see it," explains Redken Artist Celene Dupuis.
The thing about this chemical process is that every time a hair lightener or hair bleach breaks down these pigments, it also breaks up fifteen to twenty percent of the disulfide protein bonds in your hair. Since your hair is made up of 80 percent protein, this step cannot be done without knowing how to combat this protein loss (which would present as some pretty intense damage). This brings us to the most important part
The Redken Power Trio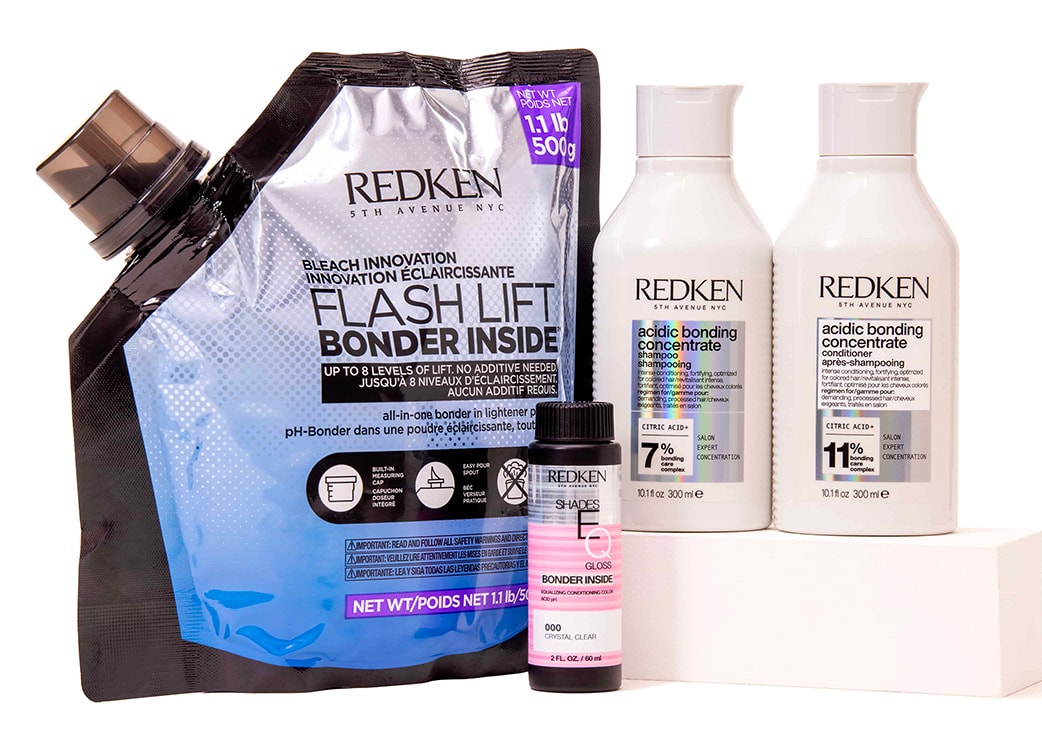 At Redken, healthy hair is the #1 priority.
The safest and easiest way to blonde is utilizing Redken's unique Total Blonding approach – a 3-step process with bonder at every step for 77% less breakage*.
Step 1. BLEACH – protect strong bonds during the lightening service with Flash Lift Bonder Inside
Step 2. TONE – strengthen bonds & tone in one step with Shades EQ Bonder Inside
Step 3. CARE – maintain with the all-in-one bonding haircare solution Acidic Bonding Concentrate
STEP 1: BLEACH IN BETTER CONDITIONS WITH FLASH LIFT BONDER INSIDE
Protect disulfide bonds where it matters most, during a lightening service.
With Redken Flash Lift Bonder Inside, the all-in-one bonder in lightener provides up to 8 levels of lift delivering maximum lifting power and protection.
With bonding agents built in the formula, they protect and keep fibers strong without the extra steps or hassle. Get beautiful blonde results every time with built-in insurance you can trust!
STEP 2: CREATE ALL REFLECTS OF BLONDE WITHOUT DAMAGE WITH SHADES EQ BONDER INSIDE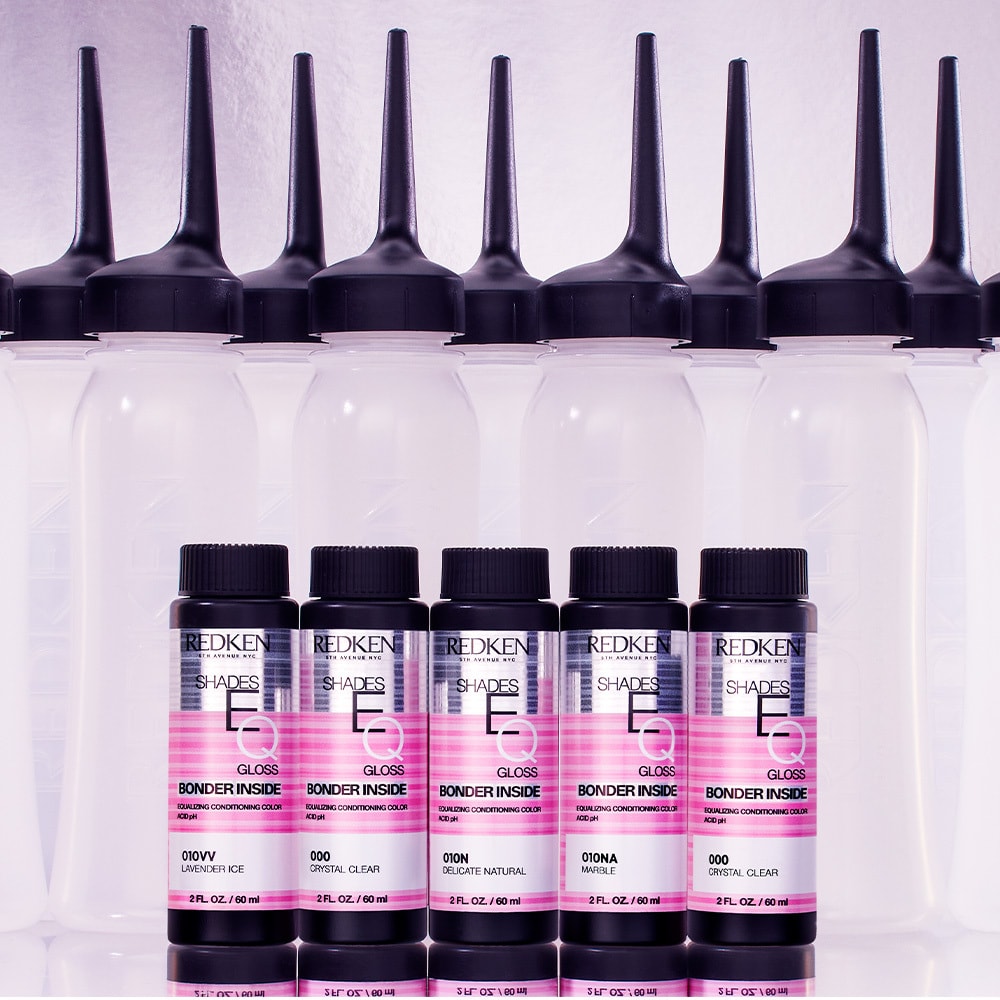 Achieve the most desired blonde reflects while strengthening sensitized hair in one step with Shades EQ Bonder Inside.
Shades EQ Bonder Inside is the ideal choice for clients who have sensitized or extremely sensitized hair and are looking to obtain a high-level blonde color result. Formulated with Citric Acid & Taurine, Shades EQ Bonder Inside helps to protect the strength of sensitized hair in 1 step and help reduce alkalinity after a lightening service
What does Shades EQ Bonder Inside mean for you?
- Faster formulation. No additive needed
- Pre-dosed for ease of use
- No compromise to color results
- Enhanced shine & strength in one-step
STEP 3: CARE & PROTECT AT HOME WITH ACIDIC BONDING CONCENTRATE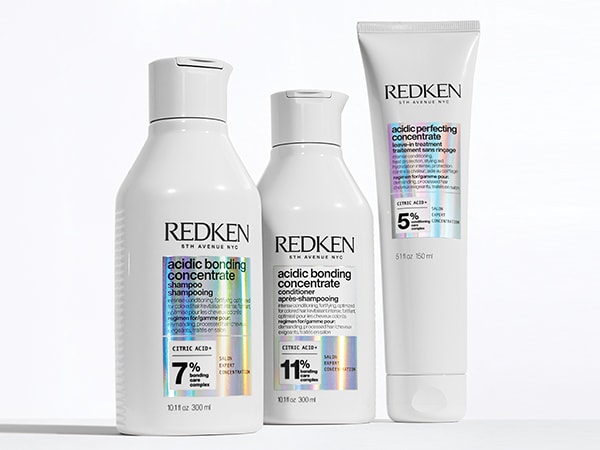 One part backbar transformation, one part at home maintenance, the new standard of care.
The Acidic Bonding Concentrate system is:
- The ideal retail solution for any client who has received a salon service; bleach, color, perm, smoothing and more
- A sulfate-free, acidic pH formula that helps to reinforce weakened disulfide bonds and improve overall hair health
- The answer to all-in-one bonding, intense conditioning and color care>
Chemical processes drastically change the hair. The cuticle lifts, the pH becomes unbalanced, and vital moisture and protein can be lost leading to weakened bonds, breakage, and dryness.
Redken's formulas tackle these issues to ensure your clients can receive continuous chemical services, coming back to the salon again and again.
Now you're ready to start blonding without fear with the Redken Power Trio!
*vs. non-bonding bleach alone