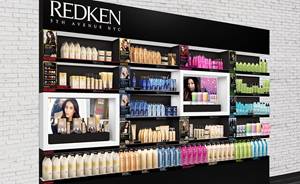 Learn About Retail
Learn About Retail
Clients educated by their stylists respect professional tools—and are more open to recommendations.
What is retailing?
Retailing is providing professional take-home products for your clients and teaching them how to use them. What you retail isn't just a shampoo, conditioner or styling product—it's the tools your clients need to recreate the look you created for them. Clients will have more success if they use what you use.
What do you retail?
Retailing builds strong relationships between clients and professionals. If a client successfully recreates a salon look, they'll have more confidence in their stylist, rebook appointments and send in referrals.
How do you retail?
Retailing starts from the moment an appointment begins. Once you've established your client's vision, show them everything they'll need to recreate the look on their own.
10 EASY WAYS TO RETAIL
Salons must be in the business of selling both products and services. That's where retailing comes in. Retailing enables you to make an impact on your clients long after their appointments by ensuring their at-home beauty experiences are easy and stress-free. The following retail strategies will help you create the optimum learning experience for your clients.

1. Create an inviting retail area. It encourages clients to make a purchase. Have plenty of inventory and minimize the number of lines you carry to make clients' buying decisions easier and show that you're serious about the products you offer.

2. Highlight monthly promotions. This is crucial for appealing to price-sensitive clients. Place signage on the retail shelves and at the stylist stations to reinforce the availability of retail. Redken offers a variety of merchandising materials including posters, shelf signs, and much more.

3. Use the power of the stylist station. 65% of retail sales occur at the stylist station. Clients spend more time here than anywhere else in the salon, so use this time wisely. Place the appropriate products, customized for each client, on the station so they can see what you're recommending and can ask questions.

4. Identify your clients' beauty needs. Talking to clients about their beauty needs is crucial. Show them how you'll solve their beauty challenges with specific products—you'll both benefit.

5. Take advantage of your captive audience. Eliminate "counter talk" and finalize conversations while clients are still in the chair. The impact of your words will be greater when they're focused.

6. Don't sell. Educate. Educating clients during each part of their appointment helps them understand the value of what they're buying.

7. Ask open-ended questions. You'll reveal the specific value of the product to the client and help them realize why it's relevant to them.

8. Make them part of the experience. It makes purchasing decisions easier. Put the product in their hands, allow them to be part of the styling/finishing process and give them brochures to read during their appointments.

9. Offer samples. Packettes are a valuable tool to initiate purchase and get clients to come back. Offer future savings for clients who return to the salon with an empty packette.

10. Help them realize they deserve it. Clients need to justify spending on pampering. How they feel when they walk out of the salon determines if and when they'll return—and how much they'll spend.

Retail success = business success. Never underestimate the impact of clients' at-home experiences on your client retention. Guests who purchase retail products are 70% more likely to return for another appointment.

There's a high correlation between retail sales and client development, and it happens by choice, not by chance. As your stylists see their client lists grow, they'll realize a newfound sense of confidence—and your business will grow bigger and stronger.
THE POWER OF MINIS
Minis pack a lot of retail power into a small bottle. Despite their size, minis go a long way in getting clients to return to the salon to purchase the full-size product.
Why You Should Sell Minis
• Minis open the door for future retail opportunities—over 75% of people who purchase one will eventually buy the full size.
• They're an affordable way for clients to try new products. Plus, they alleviate the fear of investing in a full-size product they may end up not liking.
• Minis can increase your retail income. If you don't offer retail products in mini sizes, you run the risk of clients not buying anything.
• They help increase client satisfaction. By recommending the appropriate take-home products, you're helping clients recreate their looks at home, which makes them feel good.
How to Merchandise Minis to Clients
• Make a powerful presentation. The Redken Mini Station offers a compact, clean and professional presentation for these products.
• Offer options. Display minis next to their full-size counterparts. This allows you to offer clients purchasing options so they can make the choice that's right for them.
• Give minis maximum exposure at your station and in the reception area. Clients will ask questions or pick up bottles for more information. • Highlight best-sellers. Clients are drawn to lists and collections, thinking, If these products are top sellers, they must be good.