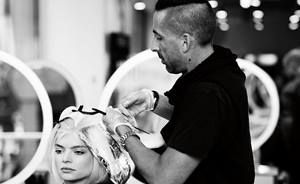 Tracking and Pricing
Tracking and Pricing
HOW TO TRACK BUSINESS
• Number of clients per day: how many clients were serviced either from the appointment book or from your own records
• Number of services per day: how many services were performed on each client. If your haircut price includes a blow-dry, it would be considered two separate services. Break down every client into increments of services, no matter your price structure
• Service total per day: the ticket price total for all the services performed
• Retail total per day: the ticket price total for all the retail products and tools sold
• Number of new referred clients: how many clients were referred to you by your existing clientele
• Number of request clients: how many repeat clients you serviced



USING BENCHMARKS
Once you've collected and tracked the important information about your client business, you can use it to establish benchmarks. These benchmarks help attain certain benefits, including:
• Improving quality of life
• Providing exceptional customer service
• Maximizing your earning potential

Here's some of the important information you can extract from these numbers:



NUMBER OF CLIENTS PER DAY
Your strategies for improvement begin with the number of clients you see per day. A good benchmark to strive for is between 10-12 clients per day. If you're servicing more than 12 clients per day, you've passed the benchmark for your desired clientele.



NUMBER OF SERVICES PER DAY
You should be performing at least 2-3 services on every client. Each should be experiencing multiple services or some type of add-on service. It's important to sell looks, not just services.
Some benchmarks to strive for are:
• 8 clients per day should be receiving between 16-24 services
• 10 clients per day should be receiving between 20-30 services
• 12 clients per day should be receiving between 24-36 services



NUMBER OF NEW REFERRALS
You should see at least one new referred client per week. Here are five strategies for getting referrals:
• Ask for them. If your existing clients love what you do for them, leverage the moment and ask them to send you new clients. Gift certificates are a great way to encourage clients to do this
• Promote new services for new clients. If your clients are showing interest in a new service they're not already receiving, offer a complimentary service if they send in a new client
• Promote discounts in return for new clients. If an existing client sends in a friend, they receive a 10% savings for each client they refer
• Promote nail services and/or other treatments so those professionals will send you new clients.
• Get involved in your community offer your services to fashion and charity functions, cut-a-thons and events that benefit others who are less fortunate. It's a great way to network and come in contact with potential clients



NUMBER OF REQUEST CLIENTS
Repeat clients should represent at least 80% of your business. When you achieve the benchmark of seeing 10-12 clients per day, this will open up the opportunity to better service your clients and maximize your earning potential.


SETTING GOALS
Use the Client Quality Chart to help you better understand how managing your clientele impacts your earnings.
Here's how it works:
1. Select a daily service total as a benchmark or goal from the left column of the chart
2. In the top row of the chart, locate the number of clients that are on your appointment book (or that you're willing to service) in an average day
3. Find the box where this number of clients serviced per day column meets the daily service total row
4. This box shows you the average ticket price that each client should have in order for you to reach your benchmark or goal
Every time you achieve a benchmark or goal, you improve customer service, increase your earning potential and improve quality of life



COMMUNICATING PRICE INCREASES
Telling your clients that you've adjusted prices can create uncomfortable situations.
Some effective ways to do this are:
• Communicate it verbally
• Send an e-card
• Write it in your e-newsletter
• Post it on your website
Remember, the idea behind raising your prices is ventilating your clientele, and making room for new clients and add-on services.
If you're worried about losing clients, we suggest:
• Develop a plan or vision
• Set your goals and benchmarks
• Monitor your business
• Don't raise your prices, ventilate your clientele
Your business takes time to grow and develop. Try different approaches, track growth and see what works for you. Make the time to manage your business, or it will end up managing you.



PREPARING STAFF FOR A PRICE INCREASE
One of the first steps you can take to earn, learn and live better is adjusting your prices. Preparing and engaging your staff for this is essential. By adjusting your prices, you'll be able to ventilate your appointment book, leaving gaps to attract new clients—clients who are in line with what you want to achieve and will help you maximize your earning potential.



LEVELS OF PRICE ADJUSTMENT
UNDERSTANDS BENEFITS

Level 4: To Improve Flow
Stylists at this level understand that they need to adjust their prices in order to ventilate their clientele. They know that by losing clients, they're creating gaps in their appointment book so they can offer better customer service with concept services. They're also able to take newly referred clients who are willing to pay the new price.

Level 3: To Improve Focus
Stylists at this level are starting to get too busy. They aren't spending enough time with their clients and are starting to run behind, which is causing them stress. They know it's time for a price adjustment.

DOESN'T UNDERSTAND BENEFITS

Level 2: Process
Stylists at this level associate the act of raising prices with angry clients. They have the sense that they haven't earned the right to raise their prices, and are afraid to let their clients know they're doing it.

Level 1: Distracted
Stylists at this level associate the act of raising prices with losing clients and losing money. They have the sense that by raising prices they're committing the ultimate sin, and are acting immoral and greedy.