ACIDIC BONDING CONCENTRATE INTENSIVE TREATMENT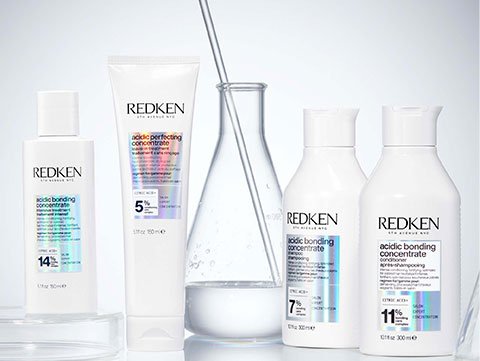 Whether you have processed hair, regularly apply heat, or are exposed to daily harmful agents such as pollution, hair damage is an inevitable part of life. Although there are many steps that go into a proper hair care routine, acidic bonding is the only way you can truly strengthen your hair from the inside out. If you're looking to take the integrity of your hair to the next level in just one wash, then it's time for you to learn about Redken's NEW Acidic Bonding Concentrate Intensive Treatment.
The Acidic Bonding Concentrate Intensive Treatment is the latest innovation in the Acidic Bonding Concentrate family – an acidic, rinse-off pre-treatment with the maximum concentration of Bonding Care Complex for a visible hair transformation in just one use. When used with Acidic Bonding Shampoo and Conditioner, your hair is 2x Stronger, 14x Smoother and 90% more conditioned*. Who doesn't love that?
The trick is to use the intensive treatment before you shampoo – it's as easy as A, B, C! Pre-treating strengthens the hair fibers and is the best way to ensure your hair maximizes the full benefits of the full line. For best results, apply to damp hair and leave on for 5-10 minutes. Then apply Acidic Bonding Concentrate Shampoo; lather and rinse. Finish with Acidic Bonding Concentrate Conditioner! You'll be hooked after one use!
If you're looking to truly treat damaged hair, we highly recommend incorporating Acidic Bonding Concentrate products into your routine. While other processes such as hydration and cleansing are equally vital to your hair's integrity, Redken's Acidic Bonding contains citric acid, an alpha hydroxy acid within our concentrated Bonding Care Complex that fortifies weakened bonds to improve strength and hair resiliency after salon bleach or color services.
When 90% of Stylists agree hair looks less damaged***, there's no need to hold off on chemically treating your hair for fear of over-processing. Add Acidic Bonding Concentrate Intensive Treatment to your haircare regimen for transformative results in just one use.
*use of Acidic Bonding Concentrate Intensive Treatment, Shampoo, & Conditioner vs. Non-Conditioning Shampoo
**with continued use of Acidic Bonding Concentrate Intensive Treatment, Shampoo, & Conditioner
***Expert test, N=66 use as a system of Acidic Bonding Concentrate Treatment, Shampoo, & Conditioner